SumWare Asset Register
Building on the long serving Asset Register software originally created by Peter Cook in the '90s, the Asset Register continues the tradition of ease-of-use with a more modern interface, and some cool new features.
SumWare Consulting have been in the software design business for 30 years and have combined their software expertise with the at-the-coalface experience Peter has accumulated over many years.
Based on FileMaker Pro, the SumWare Asset Register has a host of features. Designed for the New Zealand and Australian market, it is ideally suited to schools and small businesses. It is reasonably priced, and can be configured in a variety of ways using the FileMaker platform.
The system runs on both Macintoshes and PCs or a combination in a network environment.
Asset Register Standard Feature List
Macos High Sierra or Windows 10 or higher
Straight Line (cost price) or Diminishing Value Depreciation
Choose your own End of Year date
Partial Disposals
Range of financial reports
Print individual assets or a summary of assets
Monthly tax depreciation reporting for YTD accounting.
Ability to store non-Assets for insurance and inventory purposes
Easy find and queries on many fields
Tracking of serial numbers
Bar code and scan assets
Location reports for managing and reconciling assets
Responsiblity reports for managing and reconciling assets.
Export to Excel
Replacement report for Straight Line depreciated items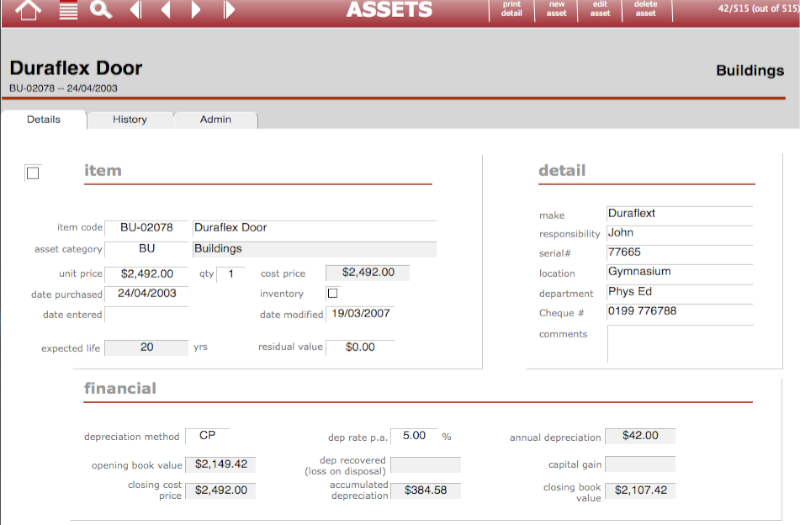 Asset Register Business Feature List
Import Asset information directly from MoneyWorks, avoiding duplication
Export depreciation amount (annual or monthly) by asset category directly into MoneyWorks journal
Export disposal information directly into the MoneyWorks journal
Track management depreciation rates as well as tax depreciation and report on either
Colour coding for easy identification of additions and disposals
Monthly and quarterly depreciation reports